Stunning, High-Quality Custom Jewelry Designs
M.Kobernik Designs are Different... in More Ways Than One
Michelle Kobernik, the founder of M.Kobernik Designs, is as unique as the one-of-a-kind custom jewelry pieces she creates. Her craft radiates with raw authentic color, flawlessly molded metals, and free-spirited sophistication, enhancing the natural beauty of any wearer. As a huge proponent of responsibility as much as creativity, she incorporates only the most ethically-sourced gems and recyclable materials - so that the earth and her customers can happily co-exist.

More About M.Kobernik Designs!
What Our Customers Have To Say
Adam Liessmann
Michelle made the perfect engagement ring for my fiancé. I never thought I would be saying this, but I found out about her via instagram looking at #rosecutdiamonds. Once I got the courage to call Michelle, all my concerns went away. I knew this was a good person who was excited to make the exact ring I was looking for. She was extremely helpful during the design process. I never felt she tried to push me in a direction but rather listened to what I wanted and helped me to create it. Even picking the ring up was fun! Thanks again Michelle for making this a great experience and making my bride to be smile every time she looks at her ring.
Karma Fry
Michelle made me the most beautiful custom engagement ring! She spent a lot of time with me fine-tuning the design, making sure it was perfect. I was very particular about what I wanted. Michelle was patient and understanding and she created exactly what I wanted. My ring is absolutely gorgeous and completely unique. I adore it and I feel so lucky to have a ring that fits my personality and style. The diamond is natural yet elegant. The setting is modern and simple. I get endless compliments. I could not be happier!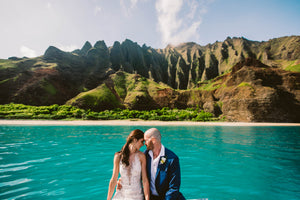 Weston Hall
Michelle was great to work with. I decided mid-December that I wanted to propose on winter solstice, so I had to ask Michelle to expedite the ring-making process. She was awesome and made it happen. I proposed and she said yes! I'm really proud of the ring my wife has on her finger.
What Sets Us Apart?
Our jewelry is crafted using 100% recycled metals.
We select diamond partners who are committed to providing top quality, conflict-free diamonds.
All of our stones are ethically sourced
When you choose to wear our custom jewelry, you're making a choice to support sustainable, ethically-sourced products. We're proud of our commitment to design jewelry that doesn't harm animals or the world in which we live. And, we hope you feel equally-proud when you purchase our handcrafted designs.
Schedule Your Free Consultation With M.Kobernik Designs to Create Your Custom Piece Today!