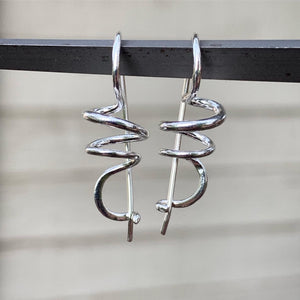 Sterling Silver Spiral Earrings
These earrings are made from solid sterling silver and have been polished to give a shiny finish. 26mm in length, the earrings are spiral in shape, with a left and right side to the pair. As such, they cannot be sold individually. 
For the more eco-conscious among us, please note that silver used in these earrings is sustainable as it is sourced from recycled metal. 
Silver is linked with lunar energy and aids the wearer to explore their inner female energy or Goddess! An Earth Element, silver helps the wearer to become more attuned to their true emotional self but its most powerful trait is that it can assist one in embracing mystery and surrendering to the unknown.
Once the earrings ship, please allow 2-3 business days for delivery if you are located in the US, and 3-5 business days for international orders.